Lodging
Give your dog the vacation of a lifetime at the Lodge! We offer luxe accommodation options, 7 outings a day, and a plethora of activities and options including daycamp, walks, cuddles, and playtimes. Your dog will never want to leave!
---
Accommodations
Please select any image to view gallery.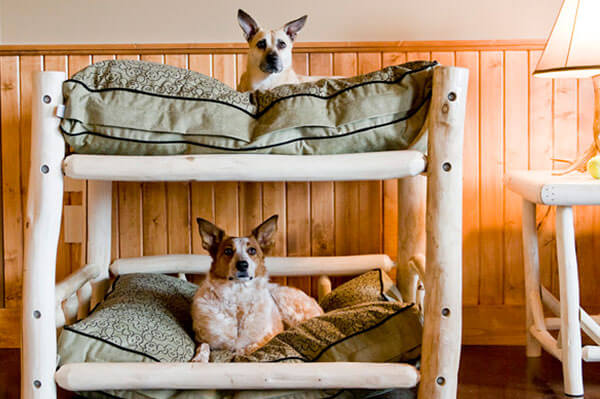 Chalets
Our spacious Chalet rooms feature sizes up to 170 sq. ft. and log beds with plush bedding. Your dog will enjoy 7 outings every day (approximately 1-1.5 hours of outdoor time a day). Chalet's include TVs for entertainment/background noise and window views of the hallways or yards. Select rooms include outdoor covered patios.
---
Play-day Package
Need your dog out of the house for the day? Check out our most popular program! Our Play-Day allows your dog to come hang out in a cabin, get let out every 3 hours and receive 2 activities, such as walks or buddy times!
Great for: puppies who need frequent let-outs, owners who work long hours and want their dog exercised/pottied while they are gone, owners who want to get their dog used to a lodging facility