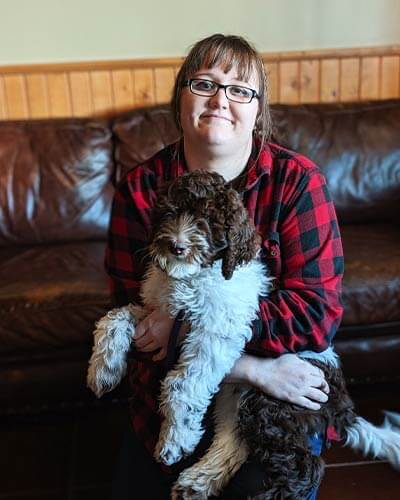 Page Bennett
· Head Trainer
Certified Professional Canine Trainer
Page Bennett is a highly experienced, skilled, well-rounded trainer. She is knowledgeable in the science of how dogs learn, and is fluent in various equipment and techniques including: reward-based, e-collar, head halti, clicker, prong collar and more.
A native of Minnesota, Page moved to Iowa to be closer to family and fell in love with all that Des Moines has to offer. She's been a member of the team since 2013 and has always had a passion for understanding and working with dogs. Before Dogwoods Lodge, she worked in a shelter and gained a desire to help dogs and their owners communicate, leading her to begin her journey towards training. When she isn't helping other people with their dogs, she spends her time with her fur-baby Master, an American Bulldog mix.
Education & Certifications
2014 Certified Professional Canine Trainer, DWL Training Academy
2016 6-month Training Apprenticeship under Jessica Tapper
2017 APDT Conference
2018 IACP Conference
Ongoing Education
Constant ongoing education through memberships, magazines, and videos.