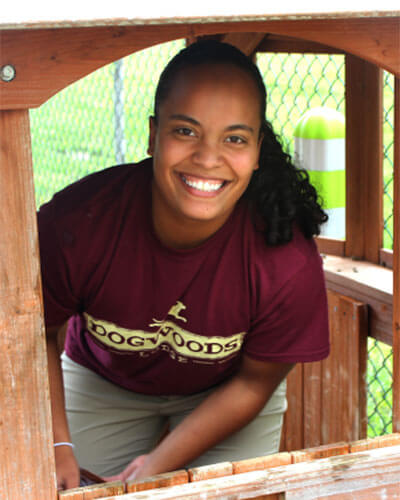 Morgan Jones
· Customer Service Manager
Morgan is from Des Moines, Iowa. Morgan graduated from Des Moines Area Community College where she earned a degree in Business Administration. She began working with us as a Customer Service Specialist in July of 2013. During her first year with us, she became our Accounting Manager, assisting our bookkeeper whenever needed. In March 2015, she took on the Customer Service Management position.
In her years with us, Morgan has gained a better understanding of dogs and some of their behaviors. She has also learned how important it is for a business's growth to develop relationships with its customers. Morgan enjoys having those personal relationships with both our customers and their dogs. She says, "It is so nice to be on a first name basis with owners and their dogs!"
One of her favorite perks working at Dogwoods Lodge is the opportunity to travel to educational conferences. Morgan is always enthused to gain more insight and tips of how to lead her team, provide excellent service to customers and stay "in the loop" of the pet care industry.
Morgan's hobbies include playing sand volleyball, camping, spending time with family and friends and snuggling with her cat, Oliver!
Education & Certifications
Business Administration, DMACC
First Aid Certified 2022
Ongoing Education
IBPSA Conferences 2018, 2019