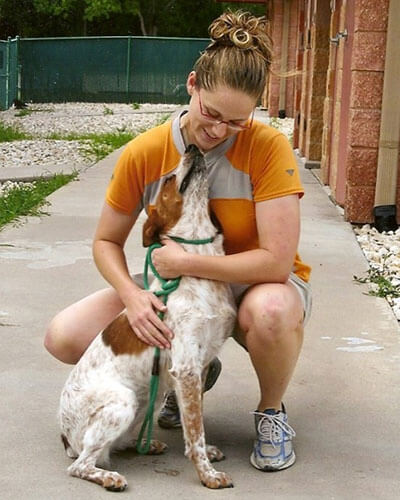 Jessica Lohry Tapper
· Owner & Head Trainer
Certified Canine Behavioral Specialist
Certified Professional Canine Trainer
Certified E-Collar Trainer
Jessica, a native of Sioux City, IA, started her career out of Iowa State as a product designer/engineer. But, she found her true calling years later; she went to Triple Crown Academy School of Dog Training (now Starmark Academy) where she earned degrees as a Certified Canine Professional Trainer and Certified Canine Behavioral Specialist. She opened Pooch Academy Dog Training in 2009, and has enjoyed helping people and their dogs ever since.
Jessica has built a name for herself in the metro as the "go-to" trainer for tough behavior cases, as well as high-quality board 'n train services. She prides herself on her diverse education rooted in dog psychology, as it allows her to tackle all types of issues. She has also trained multiple diabetic alert dogs, a cause close to her heart as a lifetime diabetic.
Her backgrounds as designer, engineer, business woman and dog guru have come together to build an amazing facility that she is thrilled to share with everyone (and their furry friends).
Education & Certifications
BA in Engineering Applications, Iowa State University, 2004
Certified Canine Professional Trainer, Triple Crown Academy School of Dog Training, 2009
Certified Canine Behavioral Specialist, Triple Crown Academy School of Dog Training, 2009
Certified E-Collar Trainer, International School for Dog Trainers, 2014
Ongoing Education
Numerous APDT and IACP conferences, 2009-2014
International School for Dog Trainers Remote Collar (E-Collar) seminar with Martin Deeley, 2014
Head Halti seminar with Heather Beck, 2016
APDT conference, 2017
IPBSA conference, 2018
IACP conference, 2018