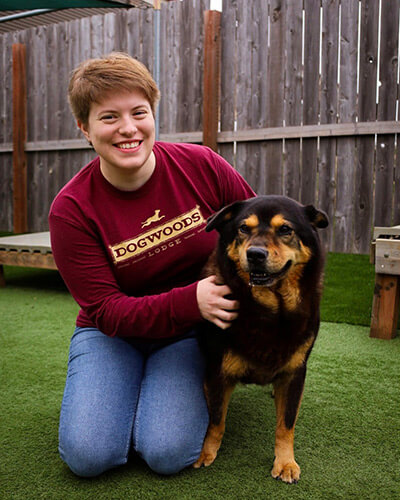 Ren Turbes
· Lodge Manager
Ren Turbes grew up in Jefferson, Iowa. After spending time out of state for school, she returned to Iowa and married her husband, and the two of them now live in Des Moines with their chow-mix, Daisy.
Ren started at Dogwoods Lodge as a Customer Service Specialist in 2020, and soon joined the Services staff as well. She quickly realized how much she loved helping dogs gain confidence, make friends, and feel comfortable at Dogwoods. She loves balancing all the details of working with clients with the chaos and energy of working with their dogs! In 2021, Ren took on the role of Customer Service Assistant Manager, where she enjoyed mentoring her coworkers and stretching her problem-solving muscles.
As the Lodge Manager, Ren invests her time in finding and mentoring the right people for our team, and maintaining Dogwoods Lodge's high standards of safety, cleanliness, and care. She's very proud of our hard-working, dog-loving Lodging staff and Daycamp counselors.
Ren is certified in Dog First Aid & CPR.